Variolock VL 100-250
Fully hydraulic quickcoupler for hydraulic excavators

Each attachment safely in use, in just seconds
The fully hydraulic Variolock energy circuit coupling system makes changing all attachments easy, safe and quick. The driver can comfortably change all tools including the hydraulic connection at the press of a button from the cab, without having to leave the cab and without having to depend on other personnel.

Very economical thanks to time and cost savings
More effective working: tool change makes sense also with short work cycles
More safety and convenience for the driver
Cost reduction due to preservation of machine and attachments
Prevention of hose ruptures
Less contamination of the hydraulic system, environmentally friendly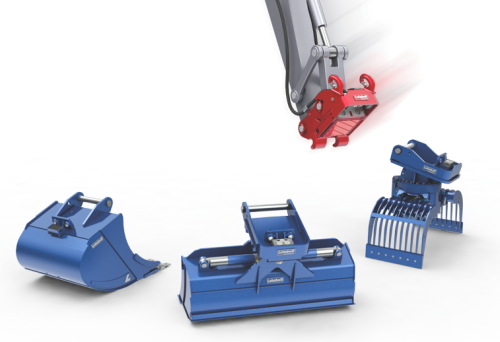 Optimised installation: hoses already installed up to SAE block flange
Quickcoupler with integrated valve block (S- block)
Valve block in the adapter of the attachment (A-block)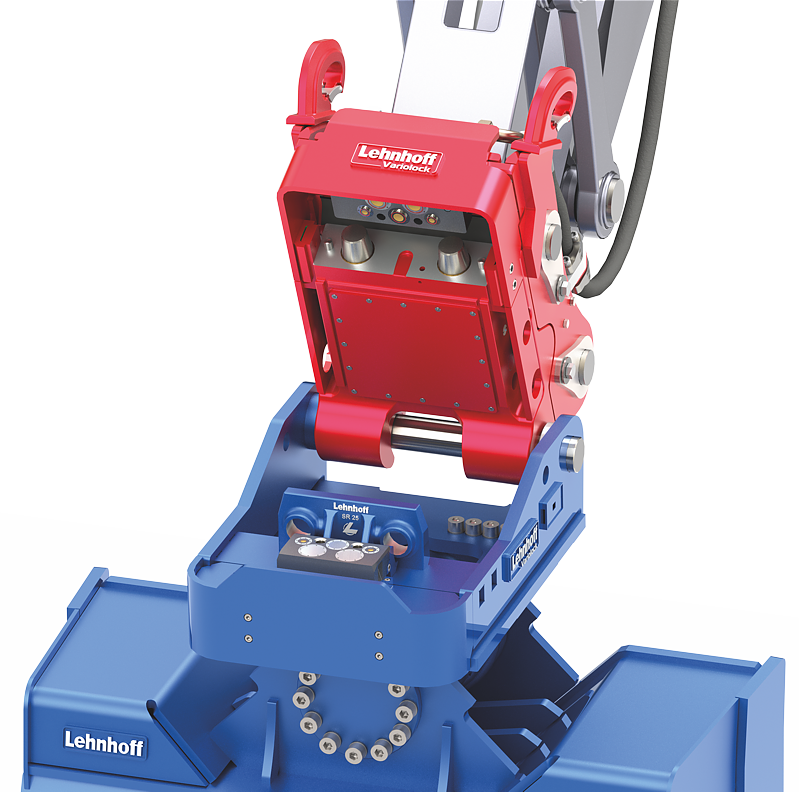 When locking the quickcoupler and theattachment with the adapter, the valvesare opened mechanically.The extremely short stroke of 0 - 4.8 mmallows a full flow of oil immediately. The quickcoupler is always safe andlocked without backlash through permanent pressurisation.
S-Block: Ventilblock im Schnellwechsler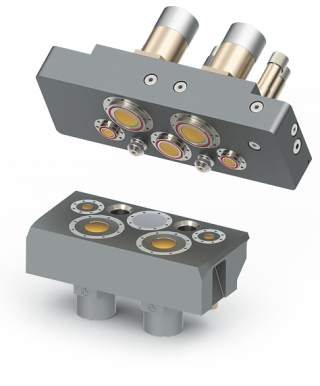 Flexibly and centrally stored on the underside in the quickcoupler
With five short stroke valves
Including leakage oil lines
Integrated hydraulic tension support ensures a solid hydraulic
connection between S-block and A-block
A-block: valve block in the attachment
Mounted in the attachment adapter
Short stroke valves are flush with the block surface and thus easy to maintain
Valves optimally adapted to the respective tool:
Two valves: e.g. tilt bucket, hammer
Three valves: e.g. drum cutter, rigid compactor
Four valves: e.g. rotatable grapple
Five valves: e.g. rotatable compactor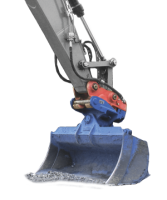 Tilt bucket:
2 valves
(3 dummies)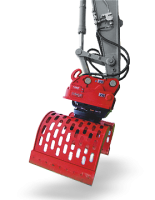 Sorting grab:
4 valves
(1 dummy)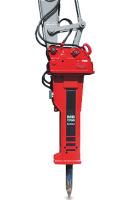 Hydraulic hammer:
2 valves
(3 dummies)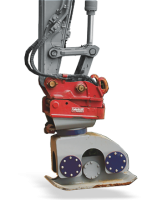 Rotatable compactor:
5 valves
(no dummy)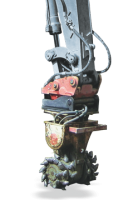 Drum cutter:
3 valves
(2 dummies)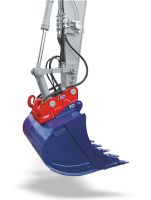 Backhoe bucket:
no valves
(only valve block protection)
Five short stroke valves enable all functions of all tools, including the leakage oil line
Technical data Variolock VL 100-250
| Quickcoupler | VL 100-2 | VL 210-2 | VL 250-2 |
| --- | --- | --- | --- |
| Excavator class | 10 - 19 t | 18 - 28 t | 26 - 40 t |
| Length (mm) | 520 | 545 | 545 |
| Width (mm) | 395 | 495 | 600 |
| Weight approx. (kg) | 220 | 350 | 550 |
| Compatible with adapter | SW 10 | SW 21/25 | SW 21/25 |
| Locking /unlocking pressure min. (bar) | | | |
| Valves | 3 x KV1, 2 x KV3 | 2 x KV1, 1 x KV3, 2 x KV4 | 2 x KV1, 1 x KV3, 2 x KV4 |
| Load hooks load capacity | 2 x 8 t | 2 x 10 t | 2 x 18 t |
Variolock VL 100-2 / VL210-2 / VL 250-2 operating modes